Miercuri, 9 decembrie 2015, au fost anuntate nominalizarile celei de-a 22-a editii a Premiilor SAG. Sunt 13 categorii, cinci pentru filme si opt pentru productiile de televiziune. Trumbo, drama biografica regizata de Jay Roach (Meet the Parents) despre viata scenaristului Dalton Trumbo, a obtinut trei nominalizari la categoriile cel mai bun film, cel mai bun actor (Bryan Cranston) si cea mai buna actrita intr-un rol secundar (Helen Mirren). Beasts, Big Short, Carol, The Danish Girl, Room, Spotlight si Steve Jobs au fiecare cate 2 nominalizari.
La categoria performanta extraordinara a unui actor intr-un rol principal, Bryan Cranston va concura cu alte nume celebre si extrem de talentate: Michael Fassbender (Steve Jobs), Eddie Redmayne (Danish Girl), Leonardo DiCaprio (The Revenant) si Johnny Depp (Black Mass). Helen Mirren si Cate Blanchett (Carol) sunt nominalizate alaturi de Brie Larson (Room), Saoirse Ronan (Brooklyn) si Sarah Silverman (I Smile Back) pentru cea mai buna actrita in rol principal.
In ceea ce priveste productiile de televiziune, Game of Thrones, Homeland si House of Cards au cate 3 nominalizari fiecare. Nominalizate la doua categorii sunt si The Big Bang Theory, Downton Abbey, Mad Men, Modern Family, Orange is the New Black, Transparent si Veep. Unbreakable Kimmy Schmidt, Mr. Robot si Better Call Saul au fost nominalizate la Premiile SAG pentru sezoanele de debut. Castigatoarea Premiului Emmy, Viola Davis, a obtinut singura nominalizare a serialului How to Get Away With Murder, la categoria cea mai buna actrita dintr-o drama, unde concureaza cu Julianna Margulies (The Good Wife), Claire Danes (Homeland), Maggie Smith (Downton Abbey) si Robin Wright (House of Cards).
Castigatorii vor fi anuntati sambata, 30 ianuarie 2016, pe TBS si TNT!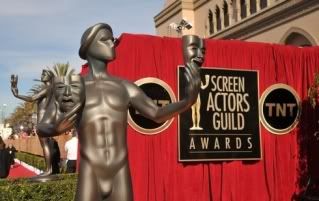 Performanta extraordinara a unei distributii dintr-un film :
Beasts of No Nation
The Big Short
Spotlight
Straight Outta Compton
Trumbo
Performanta extraordinara a unui actor intr-un rol principal :
Bryan Cranston, Trumbo
Johnny Depp, Black Mass
Leonardo DiCaprio, The Revenant
Michael Fassbender, Steve Jobs
Eddie Redmayne, The Danish Girl
Performanta extraordinara a unei actrite intr-un rol principal :

Cate Blanchett, Carol
Brie Larson, Room
Helen Mirren, Woman in Gold
Saoirse Ronan, Brooklyn
Sarah Silverman, I Smile Back
Performanta extraordinara a unui actor intr-un rol secundar :

Christian Bale, The Big Short
Idris Elba, Beasts of No Nation
Mark Rylance, Bridge of Spies
Michael Shannon, 99 Homes
Jacob Tremblay, Room
Performanta extraordinara a unei actrite intr-un rol secundar :

Rooney Mara, Carol
Rachel McAdams, Spotlight
Helen Mirren, Trumbo
Alicia Vikander, The Danish Girl
Kate Winslet, Steve Jobs
La categoria seriale, nominalizatii sunt urmatorii:
Performanta extraordinara a distributiei unui serial de comedie :

The Big Bang Theory
Key & Peele
Modern Family
Orange
Transparent
Veep
Performanta extraordinara a distributiei unui serial dramatic :

Downton Abbey
Game of Thrones
Homeland
House of Cards
Mad Men
Performanta extraordinara a unui actor intr-un serial de comedie :

Ty Burrell, Modern Family
Louis C.K., Louis
William H. Macy, Shameless
Jim Parsons, The Big Bang Theory
Jeffrey Tambor, Transparent
Performanta extraordinara a unui actrite intr-un serial de comedie :

Uzo Aduba, Orange is the New Black
Edie Falco, Nurse Jackie
Ellie Kemper, Unbreakable Kimmy Schmidt
Julia Louis-Dreyfus, Veep
Amy Poehler, Parks and Recreation
Performanta extraordinara a unui actor intr-un serial dramatic :

Peter Dinklage, Game of Thrones
Jon Hamm, Mad Men
Rami Malek, Mr. Robot
Bob Odenkirk, Better Call Saul
Kevin Spacey, House of Cards
Performanta extraordinara a unui actrite intr-un serial dramatic :

Claire Danes, Homeland
Viola Davis, How to Get Away with Murder
Julianna Margulies, The Good Wife
Maggie Smith, Downton Abbey
Robin Wright, House of Cards
Performanta extraordinara a unui actor intr-o miniserie sau film de televiziune :

Idris Elba, Luther
Ben Kingsley, Tut
Ray Liotta, Texas Rising
Bill Murray, A Very Murray Christmas
Mark Rylance, Wolf Hall
Performanta extraordinara a unei actrite intr-o miniserie sau film de televiziune :

Nicole Kidman, Grace of Monaco
Queen Latifa, Bessie
Christina Ricci, The Lizzie Borden Chronicles
Susan Sarandon, The Secret Life of Marilyn Monroe
Kristen Wiig, The Spoils Before Dying
Premiul pentru intreaga actrivitate:
Carol Burnett
Related posts
Azi e ziua lui
Skeet Ulrich, 52
Evan Peters, 35
Rainn Wilson, 56
Stacey Dash, 55
David Lynch, 76