I heart 30 Rock!
movieaddict, 12 years ago
0
6 min

read
109
30 Rock este serialul meu [actual] preferat. Tina Fey si Lorne Michaels au creat un show de comedie minunat, extrem de amuzant si ne-au oferit poate cel mai bun rol al lui Alec Baldwin: Jack Donaghy.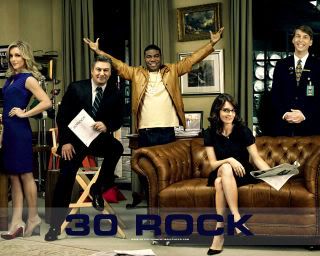 Comedia NBC, castigatoare a trei Premii Emmy pentru cel mai bun serial de comedie, se afla la cel de-al 4-lea sezon. "Nu mai suntem un serial aflat la inceput," a declarat Tina Fey pentru The Daily Beast. "Simt ca avem aceste personaje despre care stim multe lucruri deja. Le-am daruit un trecut si o intreaga istorie de care ne putem aminti".
Pentru a ne putea mainti mai bine, haideti sa o lasam pe draguta de Tina sa ne dezvaluie momentele ei preferate din 30 Rock de pana acum 😀

Ep. 106, "Tracy Does Conan"
LIZ: Why are you wearing a tux?
JACK: It's after six. What am I, a farmer?
[geniala! 😀 ]
"Aceasta este printre primele glume pe care le-am tot auzit dupa. A fost prima oara cand am auzit pe cineva spunand 'Imi place gluma aia'. A fost un moment foarte important si frumos. Am simtit ca sunt intr-adevar la TV".
Gluma face parte din primul sezon, iar Tina Fey a scris acest episod, in care Tracy trebuie sa meraga la Conan O'Brien si nu si-a luat pastilele. "Incercam sa il facem sa se poarte normal si merg la Jack, dar el nu este de foarte mare ajutor. Este totusi un moment care defineste personajul Jack, in ceea ce priveste eleganta si prioritatile lui. Personalitatea lui s-a dezvoltat foarte mult in timp, dar il avem aici pe Jack in copilaria lui ridicola".
Ep. 204, "Rosemary's Baby"
LIZ: It was terrible. I went to her apartment. I don't think she has a toilet. I saw my future, Jack.
JACK: Never go with a hippie to a second location.
"Asta a fost scrisa de Jack Burditt, care este un geniu. Carrie Fisher a interpretat-o pe Rosemary, un idol pentru Liz care, in acest episod, isi da seama ca: 'Oh, sper ca viata mea sa nu fie ca aceea a idolului meu, sau voi ajunge o batrana tacanita'. O buna parte a acestui senariu a fost rescrisa noaptea tarziu, in apartamentul meu. De cele mai multe ori, in sezonul 2, scenaristii stateau toata ziua in camera de creatie si daca eu filmam, ne intalneam cu totii in apartamentul meu pe la 9-10 seara si scriam pana la 2 sau 3 noaptea. Era greu pentru ca eu de obicei trebuia sa filmez a doua zi. Dar imi amintesc ca a fost o seara placuta, cu multe rasete".
Ep. 208, "Secrets and Lies"
TRACY: I spent two days making that movie from my home and what did I get? A million dollars, a yellow Bentley and nothing.
"Imi place de fiecare data cand trebuie sa ne gandim la o situatie amuzanta in care sa intre personajul lui Tracy. Am aratat un video animat facut de Yvonne, din staff-ul nostru – un clip animat fals, facut atat de ieftin si care aparent a fost realizat alaturi de Charles Barkley. Singurul lucru care imi place este ca Tracy are un mod aparte de a spune 'a million dollars.' El nu pronunta corect, ci 'a millah-dallahs,' lucru care ma amuza intotdeauna. Tracy cred ca avea, in acea perioada, un Jaguar verde/lime. Cred ca de acolo m-am inspirat pentru Bentley-ul galben".
Ep. 208, "Secrets and Lies"
TRACY: Don't want to disappoint my Japanese public. Especially Godzilla. I'm just kidding. I know he doesn't care what humans do.
"Este intotdeauna dragut sa imbinam iubirea lui Tracy Morgan pentru filmele cu monstrii cu personajul Tracy Jordan. Cateodata imprumutam chestii din ce a scris el, dar asa ne prostim noi, scenaristii".
LIZ: Oh, you're the only person in the world allowed to make sex mistakes?! You had a three-way with Roseanne and Tom Arnold!
JENNA: That was two years ago!
"Asta e o gluma old school. Exista glume care reies din situatii sau personaje si asta e doar o gluma. Una simpla, de efect".
KENNETH: I think adoption is a wonderful thing. Three of my nine siblings were adopted. And someday I'm gonna find them.
"Aceasta are o structura frumoasa si putin confuza, care reuseste sa te puna putin pe ganduri. Kenneth este un alt personaj caruia, daca i-am scrie toate detaliile despre viata lui, ar iesi destul de tragic. Am putea realiza o tragedie formata din el, Tracy si Jenna".
LIZ: How is this even working? You're 12 years older than everyone here.
JACK: Rich 50 is middle class 38, Lemon.
"A fost scenariul scris de Matt Hubbard. A castigat Premiul Emmy pentru acest episod. A fost unul dintre cele mai reusite scenarii pe care le-am avut vreodata. De obicei, scriitorii aduc un scenariu si ceilalti incearca sa-i adauge mai multe glume. Acest scenariu, asa cum a fost scris de Matt, a fost cel mai bine format dintre toate."
DR. SPACEMAN: Liz, I believe doctor-patient confidentiality is a two-way street. I'm cheating on my wife.
"De fiecare data cand il folosim pe Dr. Spaceman— al carui nume se pronunta 'Dr. Spa-chee-man' iese un moment tare vesel. Am fost destul de norocosi sa-l avem pe Chris Parnell in fiecare sezon. Scenele in care apare personajul sau au un ton diferit de celelalte. Ele au voie sa fie mai ridicole, mai amuzante, cred ca sunt scenele mele preferate. Robert Carlock este expertul Spaceman. Majoritatea glumelor personajului, ca aceasta, vin de la el".
Ep. 316, "Apollo, Apollo"
JENNA: You asked me to house-sit. Dennis came over and, as I mentioned, we were both pretty torn up about Hurricane Katrina —
DENNIS: (emotional) What those people were doing to the Superdome…
"Dennis este interpretat de Dean Winters, care a fost ca un noroc uimitor si o alegere minunata. De fiecare data cand am obtinut perspectiva lui prosteasca despre orice, am avut mare succes. Simpla idee ca tipul asta este atat de prostut incat a fost afectat in primul rau din cauza Superdome-ului…"
Ep. 318, "Jackie Jormp-Jomp"
JENNA: Do you need a sex tape leaked? 'Cause I've got a weird one. It's night vision and you can see that his buddy is robbing me.
"Ambele sunt glume vulgare, legate de sex si i se cam potrivesc lui Jenna. Imi place asta, nu numai pentru ca este un lucru destul de patetic si umilitor pe care sa-l recunosti, dar ea este atat de dornica sa-l foloseasca pentru cariera sa si pentru a-si multumi seful. Cred ca aceste lucruri spun foarte multe despre personalitatea ei".
Related posts
Azi e ziua lui
Dustin Milligan, 36
John David Washington, 37
Tom Pelphrey, 39
Elizabeth Berkley, 49
Sally Struthers, 74