Uranus 144: program 27 august – 2 septembrie
movieaddict, 12 years ago
18
2 min

read
158
Uranus144 este cea mai mare terasa cu cinematograf in aer liber din Bucuresti. Turnul de apa, vechi de peste o suta de ani, adaposteste barul vesel cu muzica fina si cocktailuri reci, pe care le poti servi alaturi de prieteni, tolaniti in sezolonguri multicolore, cu picioarele in nisip. Pe langa filmele de fiecare seara, spatiul generos al fostelor Antrepozite Bucuresti gazduieste in fiecare saptamana evenimente culturale cu prezenta obligatorie: concerte, petreceri cu DJ, expozitii, targuri, seri de teatru, stand-up comedy, tango argentinian, flamenco sau pecutie.

"Am vrut sa cream un loc in mijlocul orasului in care sa ai senzatia de relaxare si libertate pe care o aveam in Vama cu prietenii.Veneam aici acum 3 ani, la E-Uranus, si ni s-a parut un spatiu prea misto ca sa-l lasam sa moara. E o sansa imensa ca putem sa-l reinviem si ne propunem sa-l pastram deschis tot timpul anului, ca pe un spatiu dedicat evenimentelor culturale.", spune Sebastian Ianca, Uranus144.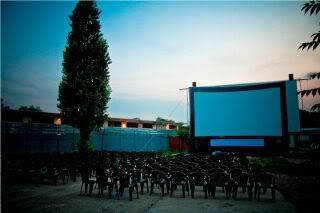 Vineri, 27 august, ora 21:30 – The Ghost Writer/ Marioneta (R. Roman Polanski)
Sambata, 28 august, ora 21:30 – Robin Hood (R. Ridley Scott)
Duminica, 29 august, ora 21:30 – The Men Who Stare at Goats/ Omul care se holba la capre (R. Grant Heslov)
Luni, 30 august, ora 21:30- Interview/ Interviu (R. Steve Buscemi)
Marti, 31 august, ora 21:30 – Caravana Cinematografica (R. Titus Muntean)
Miercuri, 1 sept, ora 21:30- Inglorious Basterds/ Ticalosi fara glorie (R. Quentin Tarantino)
Joi, 2 sept, ora 21:30 – 13 Tzameti/ 13 – Negru (R. Gela Babluani)
UPDATE: Pretul biletului este 10 Lei
Adresa: Str. Uranus, nr. 144, langa piata de flori George Cosbuc.
Related posts
Azi e ziua lui
Antonio Banderas, 62
JoAnna Garcia Swisher, 43
Justin Theroux, 51
Angie Harmon, 50
Rosanna Arquette, 63