Festivalul International de Film "Bucuresti" 2012
movieaddict, 11 years ago
18
2 min

read
131
Festivalul International de Film "Bucuresti", care se va desfasura in perioada 19-25 martie 2012, reprezinta prima mare competitie cinematografica de film de lung metraj organizata la Bucuresti, incepand din anul 2005.
In 2012, Festivalul debuteaza [maine, 19 martie] cu proiectia, in premiera, a noului film al lui Radu Mihaileanu – La Source des Femmes.
La source des femmes este povestea unor femei musulmane care hotărăsc să facă o grevă a sexului pentru că soţii lor refuză să le facă viaţa mai uşoară şi să aducă apa în sat. Povestea este inspirată dintr-un fapt real din Turcia, dar filmul a fost realizat în Maroc.

"Când am citit despre această luptă a femeilor, această frumuseţe într-o lume în care tot ce înseamnă arab şi musulman e denigrat, mi-am zis «Ce lumină! ». Şi am decis să fac acest film care să elimine câteva dintre clişeele despre lumea arabă", spunea Mihăileanu la Cannes, unde pelicula a fost proiectată în competiţie. Pentru costumele din acest film, Viorica Petrovici a fost nominalizată la premiile Cesar 2012.
Juriul din acest an este format din:
Jan Harlan, cumnatul lui Stanley Kubrick si producătorul catorva dintre filmele sale [presedintele]
Karin Hoffinger, directorul Departamentului de Relaţii Internaţionale al Festivalului de Film de la Berlin
Fernanda Silva, Directorul Festivalului de Film FESTROIA din Portugalia
regizorul si scenaristul maghiar Ferenc Moldovanyi, membru al Academiei Europene de Film

Boyd van Hoeij, critic de film, colaborator al revistei americane Variety şi al site-ului indieWIRE.
Si programul: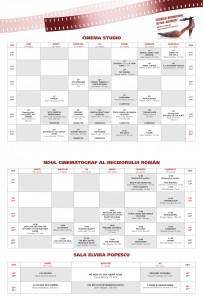 Eu am acreditare, asa ca voi incerca sa vad toate filmele 😀 De abia astept The Best Exotic Marigold Hotel, Présumé Coupable, Martha Marcy May Marlene, Snowtown si This Must Be the Place. Si sa revad The Shining, vineri, 23 martie, de la 14:00 la Cinema Studio! O sa fie o saptamana minunata.
Related posts
Azi e ziua lui
Zachary Levi, 42
Nicolas Winding Refn, 52
Erika Eleniak, 53
Ian McShane, 80
Halsey, 28