Quentin Tarantino primeste o Stea pe Hollywood Walk of Fame
movieaddict, 6 years ago
0
2 min

read
86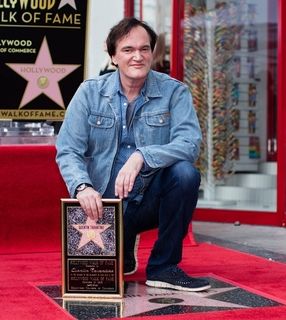 Pe 21 decembrie 2015, Quentin Tarantino a primit o Stea pe Hollywood Walk of Fame, in fata celebrului TCL Chinese Theatre.
"Wow, I guess I must have become a big shot," a marturisit celebrul regizor de 42 de ani. "I take it seriously that I am a member of this community, I am a member of this town. I'm happy to have my star on the Walk of Fame with all the other people who have done a wonderful job in this town."
La ceremonie, Tarantino s-a bucurat de prezenta a sute de fani si vechi colaboratori, printre care Zoe Bell, Demian Bichir, Clifton Collins Jr., Walton Goggins, Pam Grier, Jennifer Jason Leigh, James Parks, Tim Roth, Craig Stark si regizorul Edgar Wright.
Chiar in ziua in care implinea 67 de ani, Samuel L. Jackson, prietenul si actorul care a jucat in 6 din cele 9 filme regizate de Quentin Tarantino, l-a prezentat pe acesta [puteti citi aici un articol foarte interesant despre relatia dintre cei doi].
"Knowing what kind of cinephile he is, the reverence he holds for these names, I was very, very proud the day I got my star and I know what it means to him, cause of what he thinks and how he reveres this business and the art of filmmaking. There aren't a lot of people in this business who still look at filmmaking the way Quentin does and the purity of what it is and what it should be."
The Hateful Eight, noul film al regizorului, a obtinut deja o nominalizare pentru cel mai bun scenariu la Globurile de Aur 2016, inaintea lansarii in toate cinematografele, de pe 31 decembrie 2015.
Related posts
Azi e ziua lui
Skeet Ulrich, 52
Evan Peters, 35
Rainn Wilson, 56
Stacey Dash, 55
David Lynch, 76