Reuniune Happy Endings!
movieaddict, 4 years ago
0
3 min

read
76
Happy Endings este unul dintre serialele mele de suflet, care s-a terminat muuult prea repede in 2013, dupa numai 3 sezoane.  Este in primul rand un serial extrem de amuzant, care prezinta viata plina de peripetii a unui grup de prieteni din Chicago – interpretati de Eliza Coupe, Damon Wayans Jr., Zachary Knighton, Elisha Cuthbert, Casey Wilson si Adam Pally.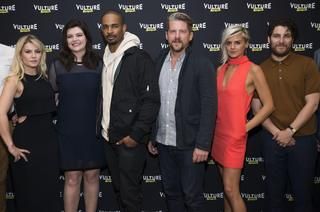 Minunata distributie plus creatorul David Caspe si Jonathan Groff s-au reunit duminica in cadrul Festivalului de Film Vulture de la New York. Mi-ar fi placut atat de mult sa particip la eveniment si sa ii vad in carne si oase pe haiosii actori, dar cum NY nu este tocmai aproape de Romania pot doar sa citesc despre acesta…
"If someone would actually let us do it the real way, then everyone would want to do it," a declarat David Caspe referitor la o posibila continuare a serialului.
"If there was a streaming service that made an offer…" a adaugat producatorull executiv Jonathan Groff, adresandu-se in special celor de la Hulu, care stateau in primul rand si care au sponsorizat Festivalul.
Atat Damon Wayans Jr. (Brad Williams), cat si Zachary Knighton (Dave Rose) isi doresc sa mai faca un sezon de Happy Endings, nu un film artistic.
Daca serialul s-ar fi bucurat de sezonul 4, Groff a declarat ca s-ar fi jucat cu ideea unei relatii intre Dave si Penny, dar ca la sfarsitul sezonului 5 Alex (Elisha Cuthbert) si Dave s-ar fi casatorit [in sfarsit] 😀
"I think Max would somehow have used the way that our country has progressed in the last three or four years, so I believe he would be somewhere in politics," a declarat Adam Pally despre nebunaticul personaj; Casey Wilson (Penny) a sugerat rapid: "Campaigning for Trump".
"ah-mah-zing" – celebra expresie folosita de Penny era scrisa in scenariul initial "amazing"; adorabila Casey Wilson a improvizat 😀 De asemenea, Penny si mama ei, Dana Hartz (Megan Mullally), au improvizat melodia si coregrafia show-ului lor de pe barca. "It truly was the greatest moment of my life. Choreographing this boat show dance with Megan is the highest I can get," a declarat Wilson.
Adam Pally a marturisit ca episodul pilot este favoritul lui pentru ca s-a intamplat ceva special inca de la inceput. "Like, it just felt awesome. It was my first real job, so I was like, you just meet new best friends. That's not always the case".
Coupe and Wayans Jr., adica Brad si Jane – unul dintre cele mai frumoase cupluri de la TV, au avut o chimie incredibila de la primul episod; 99,9% din gafele de la filmari au fost Damon si Eliza folosind limbajul lor ciudat. "We had a lot of sex in our trailer together," a explicat, in gluma, Eliza Coupe.
Joe Russo, producator executiv al serialului, i-a insemnat pe toti sa se uite la The Social Network intr-un weekend si dupa sa vorbeasca de 10 ori mai repede…
De la episodul 2, ei isi amintesc ca au scos chiar si cadrele cu orasul Chicago pentru a introduce cat mai multe glume in scenariu. David Caspe si Jonathan Groff au notat ca anumiti membri ai familiei lor au fost nevoiti sa urmareasca serialul cu subtitrari pentru a tine pasul cu repeziciunea si cantitatea de glume pe minut 😀
Eliza Coupe era sa nu joace in Happy Endings! Frumoasa actrita a primit 2 scenarii cu show-uri despre prieteni, dintre care unul era foarte prost; abia dupa ce a citit inca o data scenariul corect, aceasta si-a dat seama de valoarea noii comedii.
Related posts
Azi e ziua lui…
Paul Bettany, 49
Ben Feldman, 40
Joseph Fiennes, 50
Bella Heathcote, 33
Jack McBrayer, 47