Craciunul vedetelor
movieaddict, 14 years ago
0
1 min

read
79
Imi pare rau ca nu am mai scris zilele astea, dar mi-am petrecut (si imi petrec) timpul in familie, bucurandu-ma de perioada mea preferata din an, Craciunul!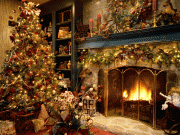 Intrucat vedetele din lumea filmului isi petrec si ele sarbatorile alaturi de cei dragi, nu prea exista stiri legate de activitatea lor artistica.
De aceea, sa vedem cum isi petrec aceastea Craciunul :
Keira Knightley : "I'm celebrating Christmas by eating a lot, drinking a lot and sleeping a lot. I'm going into hibernation"
Denzel Washington : "Opening the gifts Christmas morning, videotaping the kids, eating. Big meal. Just having everybody home. I'm looking forward to it."
Angelina Jolie : "We try to celebrate as many cultures as possible. We celebrate the Moon Festival for my boys, who are from Asia."

Hilary Swank : "I was asked to go to Europe to promote this movie, and I said, `I'll go right up 'til the 21st [of December], when the movie opens, but please let me be home for Christmas.'"
Brad Pitt : "We're trying to incorporate Kwanzaa and other traditions that we're just learning about ourselves."
Diane Kruger, care s-a nascut in Algermissen, Lower Saxony, Germany : "I'm going to Germany; I haven't been home in two years. My mum made it clear – if I don't come home, I'm not her daughter anymore."
Billy Bob Thornton : "I'm traditional all the way. I can't stand it when people open their presents on Christmas Eve. I want you to wait until the morning when Santa Claus comes."
Sper ca aveti parte de niste sarbatori MINUNATE!
CRACIUN FERICIT!
Related posts
Azi e ziua lui
Evangeline Lilly, 42
Stephen Graham, 48
Martin Sheen, 81
Hannah Simone, 41
John C. McGinley, 62