Filme horror
movieaddict, 15 years ago
20
2 min

read
306
Fiind mare fan al filmelor horror, sunt la curent cu toate productiile de acest gen ce vor aparea in viitorul apropiat.
The Haunting in Connecticut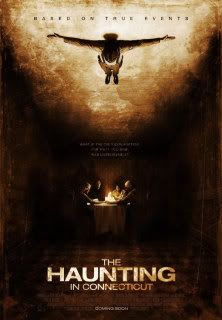 Acest film se aseamana cu productii precum The Exorcist sau The Exorcism of Emily Rose, deoarece prezinta povestea extraordinara (bazata pe intamplari reale!) a unei familii care se confrunta cu forte supranaturale intunecate.
Dupa ce Matt, fiul lui Sara si Peter Campbell este diagnosticat cu cancer, intreaga familie se muta in Connecticut pentru tratamentul acestuia. La putin timp dupa ce se muta in noua casa, Matt este foarte tulburat de o prezenta paranormala care locuieste si poseda aceasta locuinta. Pentru a-si ajuta familia infricoasata, Sara (Virginia Madsen) apeleaza la un preot misterios pentru a elibera casa de fantomele ei. Starea de sanatate a baiatului se inrautateste insa in mod inexplicabil, iar vietile tuturor sunt puse in mare pericol!
Trailer-ul filmului :
The Uninvited
Bazat pe horror-ul corean cu acelasi nume, regizat de Kim Jee-Woon in 2003, spune povestea lui Anna, o tanara care a trebuit sa fie internata in urma mortii tragice a mamei sale. Cand se intoarce acasa, gata sa isi continue viata, aceasta este socata sa afle ca tatal ei s-a logodit cu fosta asistenta a mamei sale, Rachel. Intr-o noapte, Anna este vizitata de fantoma mamei sale, care o previne de intentiile lui Rachel. Impreuna cu sora ei Alex, Anna incearca sa il convinga pe tatal lor ca logodnica lui nu este deloc ceea ce pare. De aici rezulta o adevarata lupta intre cele doua tinere si mama lor vitrega, care ia o intorsatura terifianta atunci cand intervine si o fantoma!
Trailer-ul filmului :

The Uninvited va avea premiera pe 30 ianuarie 2009. In Romania, filmul va aparea pe 24 aprilie 2009.
The Lodger
The Lodger nu este chiar un remake al filmului mut din 1927, regizat de Alfred Hitchcock, dar se bazeaza pe aceeasi carte (romanul The Lodger al lui Marie Belloc Lowndes). Filmul prezinta povestea unui detectiv care se afla pe urmele unui criminal in serie extrem de crud, ce omoara prostituatele de pe bulevardul Sunset Strip din West Hollywood. Se pare ca metodele ingrozitoare ale criminalului sunt identice cu cele ale celebrului psihopat din secolului XIX, Jack Spintecatorul – care nu a fost niciodata prins de politie! Lucrurile se inrautatesc atunci cand detectivul descopera ca exista asemanari intre crimele actuale si unele petrecute cu ani in urma, al caror autor se afla de atunci in inchisoare. Se poate ca acesta sa fi fost inchis pe nedrept?
Trailer-ul filmului :
Filmul ii are in distributie pe Alfred Molina, Hope Davis, Simon Baker, Shane West si Rachael Leigh Cook. Premiera va fi pe 31 decembrie 2008, in editie limitata!
Va urma
Related posts
Azi e ziua lui
Gwyneth Paltrow, 51
Jenna Ortega, 21
Theresa Frostad Eggesbø, 26
Anna Camp, 41
Marc Maron, 60