Muzele lui Woody
movieaddict, 12 years ago
0
3 min

read
110
Multi regizori aleg anumiti actori/actrite, pe care ii distribuie in cele mai importante filme ale lor. Woody Allen este un regizor recunoscut pentru muzele sale, care sunt niste actrite foarte talentate, celebre si frumoase.
Mia Farrow
Actrita, nascuta pe 9 februarie 1945, era cunoscuta pentru aparitiile sale TV si in piese de teatru pana in anii '80. Adevaratul succes a venit in 1982, cand Woody Allen a distribuit-o in A Midsummer Night's Sex Comedy. Mia Farrow a devenit astfel prima si poate cea mai importanta muza a lui Allen! Cei doi au avut o relatie de 12 ani, in care regizorul a scris numeroase roluri special pentru aceasta. Mia Farrow si Woody Allen au facut nu mai putin de 13 filme impreuna :
A Midsummer Night's Sex Comedy (Ariel)
Zelig (Dr. Eudora Nesbitt Fletcher)
Broadway Danny Rose (Tina Vitale)
The Purple Rose of Cairo (Cecilia)
Hannah and Her Sisters (Hannah)
Radio Days (Sally White)
September (Lane)
Another Woman (Hope)
New York Stories (Lisa)
Crimes and Misdemeanors (Halley Reed)
Alice (Alice Tate)
Shadows and Fog (Irmy)
Husbands and Wives (Judy Roth)
Diane Keaton
O alta muza foarte importanta a regizorului a fost Diane Keaton, pe care a distribuit-o in 8 dintre productiile sale! Cei doi au fost impreuna, iar rolul Annie Hall [scris special pentru ea] i-a adus talentatei actrite mult ravnitul Oscar.
Sleeper (Luna Schlosser)
Love and Death (Sonja)
Annie Hall (Annie Hall)
Interiors (Renata)
Manhattan (Mary Wilkie)
Manhattan Murder Mystery (Carol Lipton)
Play It Again, Sam (Linda)
Radio Days
Dianne Wiest

Dianne Wiest a castigat cele doua premii Oscar pentru roluri in filmele lui Woody Allen : Hannah and Her Sisters (1986) si Bullets Over Broadway (1994). Allen si-a folosit muza in 5 pelicule :
The Purple Rose of Cairo (Emma)
Hannah and Her Sisters (Holly)
Radio Days (Bea)
September (Stephanie)
Bullets Over Broadway (Helen Sinclair)

Judy Davis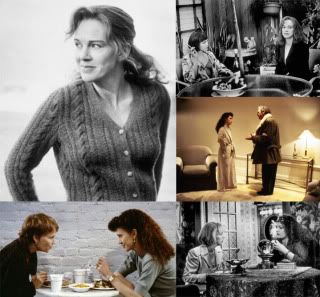 Woody Allen o considera "una dintre cele mai efervescente actrite din lume" si a avut grija sa o distribuie in 4 din filmele sale :
Alice (Vicki)
Husbands and Wives (Sally)
Deconstructing Harry (Lucy)
Celebrity (Robin Simon)
Este una dintre acele actrite extraordinare si subapreciate 🙂
Anjelica Huston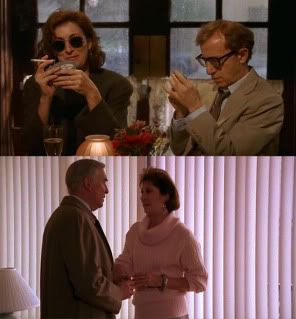 Fascinanta actrita [rolul Morticia Addams este genial] a jucat in doua filme marca Woody Allen :
Crimes and Misdemeanors (Dolores Paley)
Manhattan Murder Mystery (Marcia Fox)
Mariel Hemingway
Nepoata lui Ernest Hemingway a jucat in doua filme celebre semnate Woody Allen :
Manhattan (Tracy) – a fost nominalizata la Oscar pentru rol secundar!
Deconstructing Harry (Beth Kramer)
Samantha Morton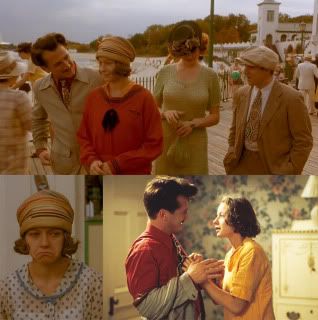 O alta actrita foarte talentata – muza a lui Woody Allen este Samantha Morton, care a fost nominalizata la Oscar pentru interpretarea foarte reusita din Sweet and Low Down (1999) !
Sa trecem acum la muzele mai recente, doua actrite foarte talentate ale generatiei tinere. Prima, Scarlett Johansson, a decalarat : "Pur si simplu il ador pe Woody. Avem multe lucruri in comun. Suntem amandoi evrei crescuti la New York. Avem o relatie foarte relaxata" Cei doi au lucrat impreuna la trei filme si nu cred ca se vor opri aici!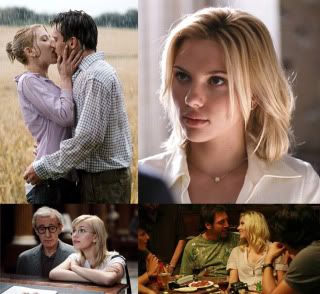 Match Point (Nola Rice) – trebuie vazut
Scoop (Sondra Pransky)
Vicky Cristina Barcelona (Cristina)
Cea mai recenta muza a faimosului regizor este Penelope Cruz, care a castigat primul ei Oscar anul acesta, pentru rolul secundar din Vicky Cristina Barcelona!
* sursa imagini
Related posts
Azi e ziua lui
Dustin Milligan, 36
John David Washington, 37
Tom Pelphrey, 39
Elizabeth Berkley, 49
Sally Struthers, 74