Happy Endings: inainte sa devina staruri TV
movieaddict, 7 years ago
0
4 min

read
159
Pe 13 aprilie 2011 au aparut primele 2 episoade din Happy Endings, un serial de comedie excelent care avea sa devina unul dintre preferatele mele din toate timpurile! Jane, Alex, Dave, Max, Brad si Penny formeaza nebunatica gasca de prieteni din Chicago, ale caror relatii disfunctionale, trecut savuros si replici memorabile au facut ca Happy Endings sa devina un serial cult. Show-ul a fost difuzat de ABC timp de 2 ani, fiind anulat in mai 2013 (o decizie pe care nu o sa o inteleg vreodata).
Eliza Coupe, Elisha Cuthbert, Zachary Knighton, Adam Pally, Damon Wayns Jr. si Casey Wilson au fost absolut geniali in aceste roluri, dar poate sunteti curiosi sa aflati ce faceau indragitii actori inainte de Happy Endings.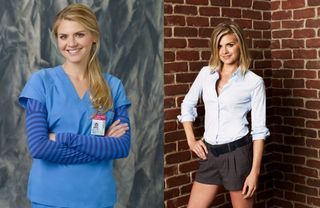 Jane: Judging people comes so easily to me!
Eliza Coupe a fost Jane Kerkovich-Williams in Happy Endings, sotia perfectionista, sarcastica si uneori malitioasa a lui Brad si sora lui Alex. Actrita de 35 de ani a obtinut primele roluri in anii 2000, jucand in comedia din 2007 I Think I Love My Wife, in episoade din Flight of the Conchords, 12 Miles of Bad Road, Samantha Who? si Community. In 2009, aceasta a jucat in 24 de episoade din Scrubs, in rolul Dr. Denise Mahoney.
Alex: Everyone needs two naps per day!
Elisha Cuthbert aka Alex Kerkovich, sora mai mica a lui Jane si fosta logodnica a lui Dave, pe care l-a parasit la altar. Debutul frumoasei actrite a fost acum 20 de ani, in 1996, cu rolul lui Megan din Are You Afraid of the Dark? urmand a juca in numeroase alte filme precum Airspeed, Old School, Love Actually, The Girl Next Door, House of Wax, The Quiet, Captivity, He Was a Quiet Man si serialul 24.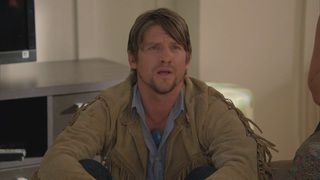 Dave: What if she's pregnant? Would we raise the baby together? Would we raise it as a group? Group baby, is that a thing?
Happy Endings nu putea avea alt Dave decat Zachary Knighton, fostul logodnic al lui Alex si un tip aiurit, relaxat, care nu si-a gasti inca directia in viata. Actorul de 38 de ani si-a inceput cariera in anii 2000, fiind Mr. Rolly din Cherry Falls si avand roluri episodice in serialele Ed si Law & Order. Knighton a mai jucat in filmele The Mudge Boy, The Prince and Me, Life on a Stick, The Hitcher si Flashforward.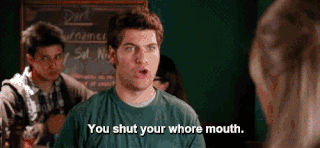 Max: I'm not at a point in my life where I can be taken seriously.
Mi-e foarte greu sa aleg un personaj preferat din serial, pentru ca ii iubesc pe toti, dar cred ca duo-ul Max si Penny este cel mai reusit. Cele doua personaje nebunatice trec prin cele mai amuzante si zapacite faze de-a lungul serialului, Max avand cred cele mai multe citate memorabile. Inainte de acest rol genial, Adam Pally a jucat in Assassination of a High School President, Taking Woodstock si Solitary Man.
Brad: I mean I haven't really kept up with my acting aside from memorizing every one of Taye Diggs' monologues from Private Practice, but that's just to stay sharp.
Damon Wayans Jr. este Brad Williams, sotul lui Jane; cei doi formeaza cuplul ideal, fiind perfecti unul pentru celalalt. Este si singura relatie adevarata de iubire care rezista in serial 🙂
Fiul lui Damon Wayans, actorul de 34 de ani a inceput sa joace in filme inca din adolescenta, Blankman (1994) si poi serialul tatalui sau, My Wife and Kids, in care a aparut timp de 8 episoade in rolul lui John. Damon Wayans Jr. a mai jucat in filmele Dance Flick si The Other Guys.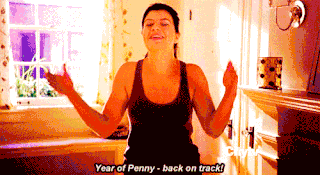 Penny: Yes! Year of Penny!
Max: The year's been over for a couple of months, Pen.
Penny: Not the fiscal year of Penny. Suck it, taxpayers!
Casey Wilson a fost "amahzing" in rolul lui Penny Hartz din Happy Endings! Aceasta va ramane cel mai optimist personaj pe care l-am vazut vreodata in seriale; plina de viata, draguta si mega amuzanta, Penny este minunata 🙂 Desi parca toata ciudateniile i se intampla ei si nu are deloc noroc in dragoste, Penny nu isi pierde deloc speranta si este mereu gata de noua aventura pe care i-o pregateste viata.
Casey Wilson si-a inceput cariera la Upright Citizens Brigade Theatre, in anii 2000, iar in 2008 s-a alaturat distributiei Saturday Night Live timp de 2 sezoane. Aceasta a mai jucat in Bride Wars, Julie & Julia si Killers. Fun fact: Casey este casatorita cu David Caspe, creatorul serialului Happy Endings, cei doi avand un baietel adorabil de 1 an jumate, Max Red Caspe.
Related posts
Azi e ziua lui
Sarah Snook, 36
Camille Cottin, 45
Zoë Kravitz, 35
Riz Ahmed, 41
Natasha O'Keeffe, 37