Despre The Secret
movieaddict, 8 years ago
0
2 min

read
178
ITV a dat unda verde unei noi drame – The Secret, cu James Nesbitt (The Missing) si Genevieve O'Reilly (The Honourable Woman) in rolurile principale.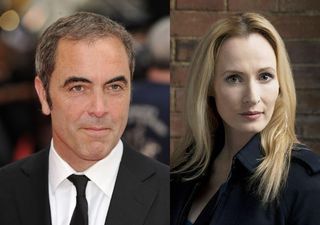 Produsa de Hat Trick Productions, miniseria formata din trei parti spune povestea adevarata a unei crime duble. Celebrul actor irlandez James Nesbitt va juca rolul lui Colin Howell, un dentist respectabil si un pilon al comunitatii sale, care a devenit un criminal, alaturi de o profesoara, Hazel Buchanan (Genevieve O'Reilly). Howell and Buchanan s-au cunoscut la Biserica Baptisa din Coleraine, Irlanda de Nord. Cei doi au inceput o aventura pasionala, periculoasa si distructiva, care a dus la un plan elaborat prin care sa-si omoare partenerii de viata, pe Lesley si Trevor.
Noua drama este scrisa de Stuart Urban (An Ungentlemanly Act), regizata de Nick Murphy (Occupation, Prey) si produsa de Jonathan Curling (Holy Cross, The Government Inspector).
"The Secret is a powerful true life crime story. The production team at Hat Trick led by Mark Redhead has a long held reputation for producing quality drama focusing on human frailties and tragedy," a declarat Steve November, Director of Drama de la ITV. "This is the story of an audacious and wicked crime. It tells us something very surprising and revealing about the dark side of human nature," a adaugat producatorul executiv Mark Redhead.
The Secret se bazeaza pe best seller-ul scris de reporterul veteran Deric Henderson, fostul jurnalist irlandez din cadrul Press Association, bazat pe materialele din ancheta reala. Acesta a declarat: "It's an extraordinary story, certainly the most remarkable I've ever covered in a long career." Productia miniseriei va incepe in noiembrie, in Irlanda de Nord.
Related posts
Azi e ziua lui
Sarah Snook, 36
Camille Cottin, 45
Zoë Kravitz, 35
Riz Ahmed, 41
Natasha O'Keeffe, 37