Sarbatoritii de azi
movieaddict, 12 years ago
0
2 min

read
46
Az, 5 octombrie 2008, este ziua lui :
Parminder Nagra, sau Neela din ER, un personaj foarte drag mie, care a implinit 33 de ani!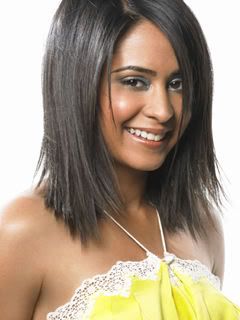 Frumoasa actrita s-a nascut si a crescut in Anglia (Leicester) ; rolul care a facut-o celebra a fost cel din Bend It Like Beckham, unde a jucat alaturi de Keira Knightley. A inceput sa joace in minunatul serial ER in 2003, la inceputul sezonului 10, in episodul intitulat Now What. Despre prestatia ei in acest serial, colegul ei Noah Wyle a declarat ca aceasta reprezinta viitorul ER-ului!
Cateva detalii despre viata ei :
parintii ei au emigrat din India in Anglia in anii '60 ; tatal ei este bibliotecar iar mama lucreaza intr-o fabrica
are trei frati mai mici
stie sa vorbeasca perfect Punjabi
ii place la nebunie sa gateasca ; declara ca nu ar urma niciodata o dieta din Los Angeles, pentru ca este mare fan al manacarii indiene
cei apropiati ii spun Mindi
Cealalta sarbatorita a zilei este Kate Winslet, care a implinit, ca si Parminder, 33 de ani!

Actrita de origine engleza a interpretat roluri foarte variate, enumerandu-le aici pe cele din Titanic, Iris, Eternal Sunshine of the Spotless Mind (genial!), The Holiday.
s-a nascut si a crescut in Anglia, in prezent locuind la New York
a fost casatorita cu Jim Threapleton (1998 – 2001) cu care are si un copil, Mia Honey Threapleton ; despre divort, actrita a declarat "Pana sa divortez, presa ma considera un trandafir englezesc, perfect, care nu poate face nimic rau ; de aceea a iesit totul dezastruos, iar toti au devenit din ce in ce mai rai cu mine. Chiar si cand m-au facut grasa, eu le-am raspuns indiferenta Si ce daca? Cui ii pasa? Gaseste-ti altceva mai bun de facut!"
A refuzat rolurile din Shakespeare in Love (1998) si Anna and the King (1999) ; acestea le-au revenit lui Gwyneth Paltrow si Jodie Foster
S-a casatorit cu regizorul englez Sam Mendes in mai 2003, intr-o vacanta in Indiile de Vest. Cei doi au un baietel, Joe Alfie Winslet Mendes, nascut pe 22 decembrie 2003 la New York
Este foarte buna prietena cu partenerul ei din Titanic, actorul Leonardo DiCaprio ; copii ei ii spun acestuia unchiul Leo 🙂
Este vegetariana
A fost de 5 ori nominalizata la Premiile Oscar
A castigat un Premiu BAFTA in 1996, pentru rolul din Ratiune si Simtire si un Premiu Empire pentru prestatia din Eternal Sunshine of the Spotless Mind (2005)
Pe draguta Kate o vom putea vedea din nou alaturi de DiCaprio, in drama Revolutionary Road, care va aparea de Craciun (in S.U.A.) Mie nu mi se pare ca se potrivesc deloc, dar sigur nu va fi un film prost!
Related posts
Azi e ziua lui…
Kevin Costner, 66
Dave Bautista, 52
Jason Segel, 41
Mark Rylance, 61
Antje Traue, 40